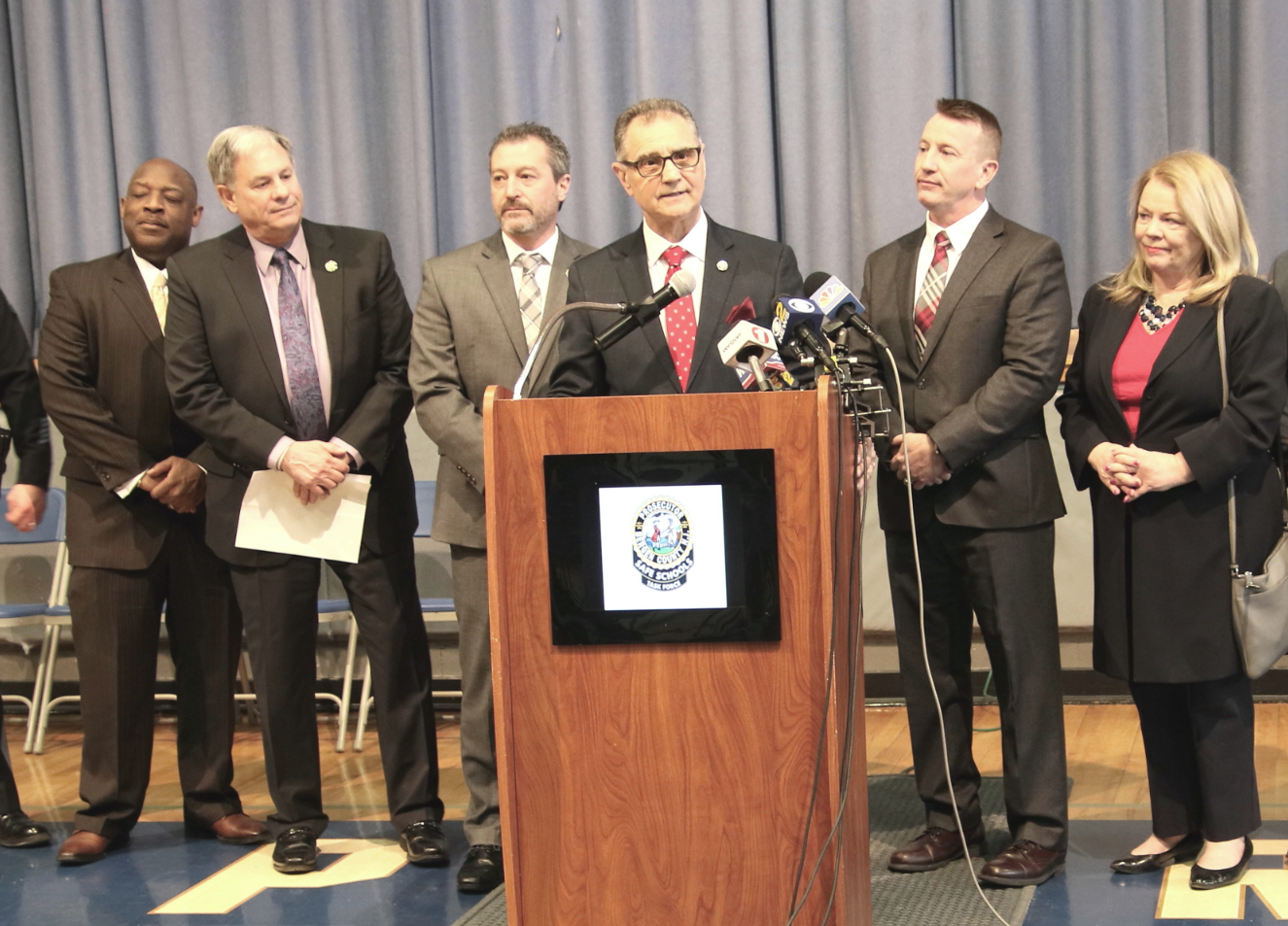 Acting Bergen County Prosecutor Dennis Calo (center, at podium) outlined the Bergen County Safe Schools Task Force's first annual report March 14 at Harrington Park School. Pictured, from left: Bergen County Sheriff Anthony Cureton, Bergen County Executive James Tedesco, BCPO Chief of Detectives Robert Anzilotti, BCPO Supervising Senior Assistant Prosecutor Martin Delaney and Bergen County Freeholder Mary J. Amoroso. | Photo by Murray Bass
BERGEN COUNTY, N.J.—A top county law enforcement official said the agency will soon be working with four school districts to implement a cell phone app to improve anonymous reporting of suspicious or threatening behavior, cyber-bullying and at-risk individuals and hopes to have the app available countywide by September.
Martin Delaney, Bergen County Prosecutor's Office senior assistant prosecutor, told Northern Valley Press that the user-friendly LiveSafe app is a cell-based tip-reporting and two-way communication app that allows students, administrators and parents to anonymously report information regarding school facility security, suspicious behaviors and posts, plus acts of bullying, vandalism, illegal drug use or activity, and students in need of counseling or intervention to prevent self-harm.
Four towns 'pilot' app
Delaney said Tenafly, Teaneck, Dumont and Palisades Park will be piloting or first integrating the application among students, educators and parents.

"This app allows us to push out specific information about what to do in an emergency situation," said Delaney, noting that during an "active-shooter" situation the police can provide direct and speedy information via the LiveSafe app.
The county is paying  $150,000 for a three-year use of the LiveSafe platform. Once a test run is completed it will roll out to all other Bergen County schools,  Delaney said. There is no cost to schools once the app rolls out, he said.
According to its website, the LiveSafe mobile app gives people a path to surfacing information across a broad range of risk categories—anonymously if desired. The insights are directly routed to the stakeholders that are responsible for doing something about the situation. LiveSafe serves as a steward of employee/student privacy.
"Anonymous means anonymous," it states.
Delaney said having the app should make tip reporting easier for students, educators and parents and help law enforcement communicate with an entire community of engaged individuals, whether collectively or individually.
He said following a conference call with district superintendents to get feedback, the Prosecutor's Office is likely to have information sessions geared to students, educators and parents to answer questions about the app.
Students, parents needed
Delaney said without the participation of students, administrators, teachers, school staff, custodians and lunch aides, and involved parents, the app will not be a success. He said getting input from parents and students was vital to effectively implementing the anonymous reporting app.
"This app allows law enforcement a more effective, seamless response. Although you always run the risk of parents' panicking and going to a school, we can provide messages of what to do if and when an active-shooter situation occurs," he said.
He said if an active-shooter scenario occurs LiveSafe can provide critical real-time information to students and teachers inside a school. Conversely, those under (school) lockdown can flow information out to responding emergency personnel.
"This type of communication is essential to an effective response," states page nine of the county Safe Schools Task Force issued in March at a press conference featuring over a dozen task force members.
"We're committed to this," Delaney added.
Task Force priorities
Delaney said all school personnel should take the three school security training courses offered as part of Safe Schools Task Force available free by request on the Bergen County Prosecutor's Office website.
These include "Response to Active Shooter Events: Policy, Plan Response and Recovery"; "Facility Security: Identifying and Remediating Common Safety Vulnerabilities"; and "Mental Health in Schools: Engaging Students and Preventing Issues of Concern."
While law enforcement, including local police and Bergen County SWAT, likely will arrive in minutes at any active-shooter incident, said Delaney, having a school security plan developed, including what to do when an intruder is detected, often can increase the chances for survival during an actual emergency.
He said one key Safe Schools Task Force priority is to form a School Security Committee and determine what the specific needs of the school are in case of an active-shooter event.
He said some districts have a plan and some don't, but a security plan including a school lockdown protocol is critical to survival.
He said school security priorities can be broken down into "critical, vital and important needs" and can be summarized as follows: deny unauthorized access to people who should not have access, and if an unauthorized person gets in, put the school on lockdown until the threat is removed.
Are armed officers needed?
Over the last couple weeks, the role of armed officers and guards in school security has been a hot topic as an armed security guard at the STEM School Highlands Ranch shooting outside Denver captured one of the shooters and reportedly fired his weapon.
During the massacre at Marjory Stoneman Douglas High School in Parkland, Fla., where 17 students and teachers were killed, the armed school resource officer never entered the school.
A debate among school boards, superintendents and parents has played out in multiple Bergen County districts in the last year, with most regional high schools employing school resource officers or special law enforcement officers during and after school hours.
In early 2019, Tenafly Public Schools decided against employing special law enforcement officers in its six schools—including four elementary schools—after intense parental opposition to allowing armed officers in elementary schools throughout the day.
Tenafly Superintendent Shauna DeMarco initially supported using special law enforcement officers but backed off on her recommendation after dozens of parents spoke strongly against armed officers in grammar schools.
"It is never my intent to try to change people's beliefs and core values. The last thing I would want was to have a super-close board vote for people [officers] being hired into positions that are then super-controversial. The timing is very important," she said then.
In early 2018, former acting Superintendent Barbara Laudicina called the hiring of six special law enforcement officers a "viable solution" for school security and recommended a second question be placed on November's ballot for the public to decide whether $350,000 should be spent for officers.
The board declined to fund the officers in 2018 and voted against putting the question up for a referendum.
Delaney said whether to hire armed officers—such as school resource officers or special law enforcement officers—is a "local decision" that must be made by the school district, in concert with parents, local police, and sensitive to community concerns.
However, the task force report points out armed officers in schools "may provide deterrence and an immediate response to violent activity…the (task force) Accreditation Committee suggests that school districts explore the feasibility and potential effectiveness of armed security personnel in their schools," it states.
The subcommittee is chaired by Harrington Park Superintendent Adam Fried.
Mental health focus
Another critical focus for schools' intervention is awareness of mental health warning signs for troubled youngsters, said Delaney. He said effective mental health intervention can be done by an assessment care team, made up of a team leader (principal or vice principal), mental health professional (social worker, psychologist, or psychiatrist), and trained school safety personnel (school resource officer, special law enforcement officer, or security officer).
The task force's mental health committee recommended that each school establish such a team and the committee developed a training course focused on helping the team assess mental health, student conduct, and emotional issues that may serve as indicators for future risks of violence or self harm and guidelines to make proper referrals.
Delaney said the county received a $750,000 grant over three years from the federal Department of Justice that will be used to help districts set up mental health assessment care teams.
These teams can help schools identify "red flag warnings" that something needs to be done to avoid future issues, said Delaney.
He said the county will be working with CarePlus New Jersey to implement the program.
Another timely school security effort underway involves a program to promote digital mapping of all schools countywide, Delaney noted, which has started slowly.
He said the county hosts a server to provide the digital data to all first-responders arriving on an active-shooter scene so they can orient themselves and navigate an unfamiliar building layout.
No county funding is available for the effort, said Delaney, but about 5 percent of county schools have been mapped.
Tenafly plans to hire Collaborative Response Graphics to map its six schools this summer at a cost of $14,000 to be shared by the district and police department.
Delaney said 379 school buildings need to be digitally mapped and all county-owned school facilities have been mapped.
School administrators await guidelines on grant funding from 2018's state Securing Our Children's Future Bond Act, which included $350 million for expanding vocational–technical education and public school security upgrades.
Voters approved the $500 million bond act in November 2018.