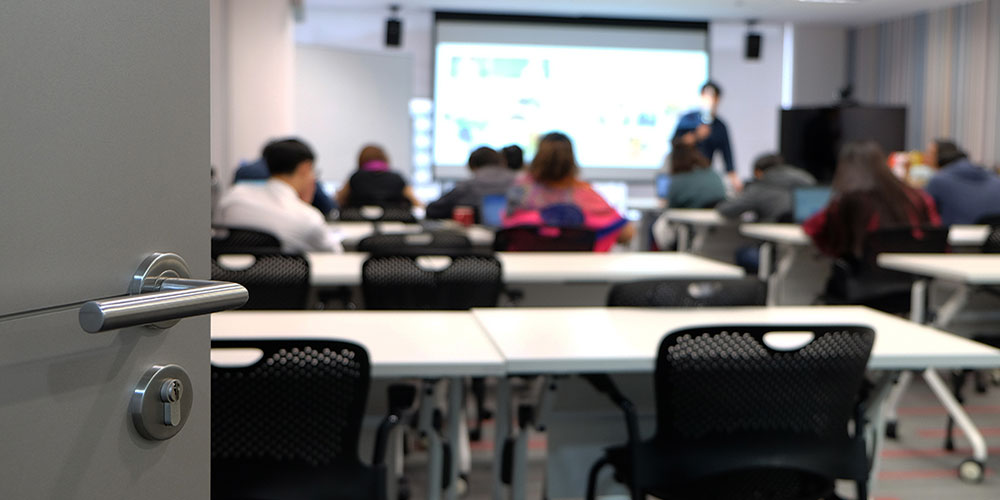 The doors, which can be locked from the inside with a turn of the thumb, are made of galvanized steel and reinforced inside with metal bars.
An Orthodox Jewish school in Brooklyn's Crown Heights neighborhood is the first New York school to install bullet-resistant doors in its classrooms.
The first of 90 doors were installed at Bnos Menachem by Remo Security Doors, a company that manufactures them in Israel, WCPO reports.
Bnos Menachem is funding the doors, which go for $2,500 each, using $150,000 in grant money from the state's Department of Homeland Security. The doors are made of galvanized steel and are fortified inside with metal bars. They can be locked from the inside with a thumb turn and no electricity is required. Each also has a bullet-resistant window and is fire-resistant.
The company has door-installation jobs lined up in more than 50 Jewish schools and synagogues in Brooklyn, according to The New York Post.
Prior to the installation at Bnos Menachem, Remo Security Doors CEO Omer Barnes installed the doors in his son's New Jersey school district.
"I took it more of a personal thing to, you know, find a solution," said Barnes.
Barnes' son attends a school in Harrington Park, where the district invested thousands of dollars to install more than 50 doors.
"God forbid, a shooting event," he said. "Someone tries to break the glass to unlock the door, it's impossible. You cannot do it."
A bullet could penetrate the door but a shooter cannot get in, he added.
The next step for Harrington Park Schools is to install the doors on all exterior points of entry.
"We're starting to add more militarization into our schools and at the end of the day, schools are for learning," said Harrington Park Superintendent Adam Fried, who feels bringing guns into his schools to protect students isn't the answer. "We are all looking for solutions to keep our family members safe."
Fried said school leaders liked that the thumb-lock on the doors are so easy to lock "a 5-year-old could do it."
Tenafly Public Schools, a neighboring district, has also placed an order for the doors.